Dental Implants – Slidell, LA
Restoring a Beautiful, Healthy, and Complete Smile
Is the loss of your teeth causing daily inconvenience? Are you avoiding words, foods, and even smiles due to missing teeth? If this sounds familiar, Dr. Steve has the ideal answer: dental implants in Slidell. Unlike mere aesthetic replacements, dental implants reconstruct teeth from the root, offering unparalleled appearance, strength, and durability. If you're determined to overcome tooth loss, reach out today to learn more about the unique advantages of dental implants.
What Are Dental Implants?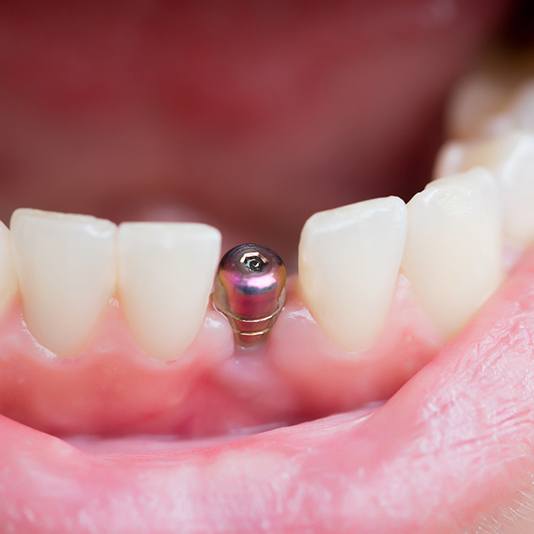 Dental implants restore both the visible crown and the missing root, resulting in a durable and natural-looking solution. Surgically placed in the jawbone, these implants fuse with the bone over time, providing stability and functionality similar to natural teeth. Whether for a single tooth, multiple teeth, or even a full arch, dental implants offer a long-lasting and reliable option for restoring your smile and oral function.
The 4-Step Dental Implant Process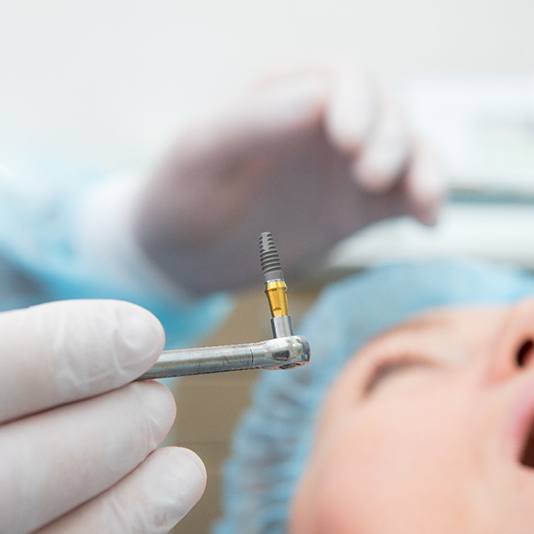 Rebuilding your smile with dental implants involves a surgical procedure where specialized tools shape the bone to match the implant's dimensions. After healing, an abutment is affixed to the implant, securing the tooth restoration. Although designed to be permanent, some restorations can be retrieved for repair. Typically, it takes around four months from implant placement to achieve the final tooth restoration.
The Benefits of Dental Implants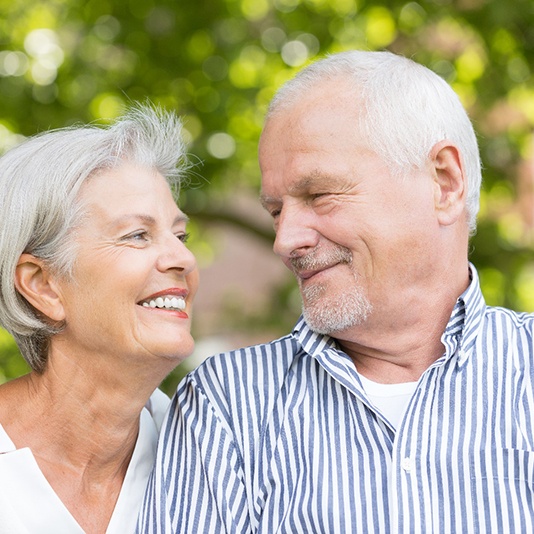 Thinking about getting dental implants in Slidell? Here are some benefits you can look forward to:
Nutrition – Dental implants grant you nearly the same chewing capability as real teeth, allowing you to enjoy your favorite foods without limitations.
Preserving Jaw Health – Implants stimulate the jawbone, averting the bone loss that often follows natural tooth loss.
Enhanced Aesthetics – Beyond restoring your smile, dental implants prevent early cheek sagging and hollowing for a more youthful appearance.
Long-Lasting Solution – On average, dental implants last for over 25 years, and some can remain functional for an entire lifetime.
Who Dental Implants Can Help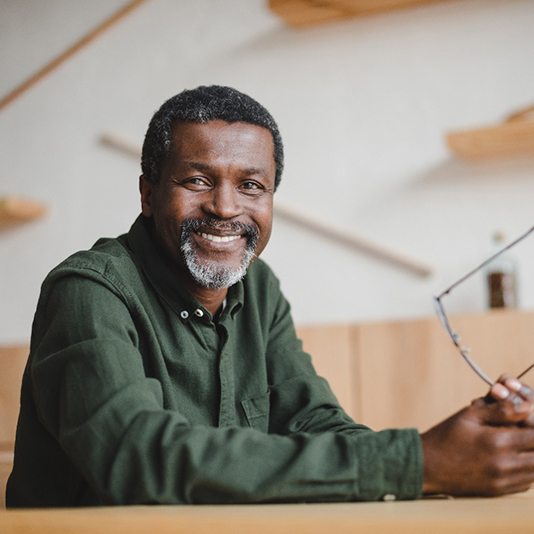 Dental implants are a versatile solution, whether you're missing just one tooth or multiple. To be a candidate, your mouth must be free of gum disease, your body must be healthy enough for surgery, and your jaw should be strong enough to support the posts. Once qualified, we'll choose an implant type based on the extent of tooth loss.
Missing Single Tooth
A single dental implant post is all it takes to replace a missing tooth. After complete healing around the implant, a crown can be positioned atop it, like how we'd restore a natural tooth. Using tooth-colored materials, we craft the crown to seamlessly blend with surrounding teeth, ensuring your smile appears entirely natural following the treatment.
Missing Multiple Teeth
When multiple teeth are lost within one arch, we offer a solution to replace them collectively using a minimal implant count. For instance, as few as two dental implants and a personalized dental bridge can replace three or more consecutive teeth. Gaps in multiple areas can be effectively addressed with a partial denture and the appropriate number of implant posts.
Missing All Teeth
When all teeth in a single arch are lost, they can be comprehensively replaced with a full denture. A mere four to six implants usually suffice to provide ample support. Unlike traditional dentures, implant dentures offer the flexibility of being either removable or fixed based on your preference.
Understanding the Cost of Dental Implants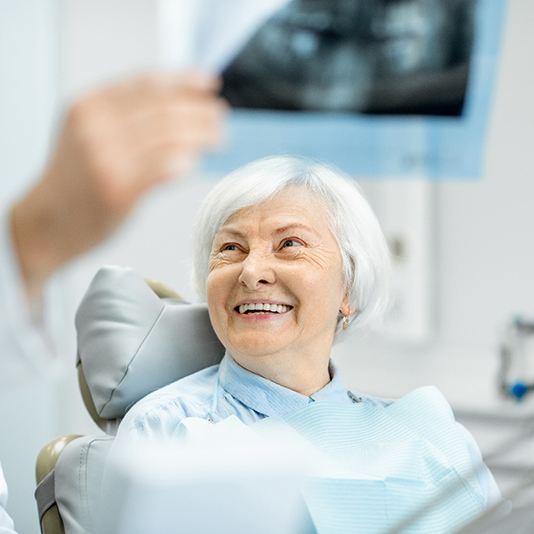 Compared to alternative tooth replacement options, dental implants generally come with higher costs. The cost depends on factors like the required number of implants, restoration type, materials utilized, and additional considerations. It's important to recognize that the value of dental implants is balanced out by their benefits and extended durability, outweighing their initial expense when compared to other choices for teeth replacement.
Dental Implant FAQs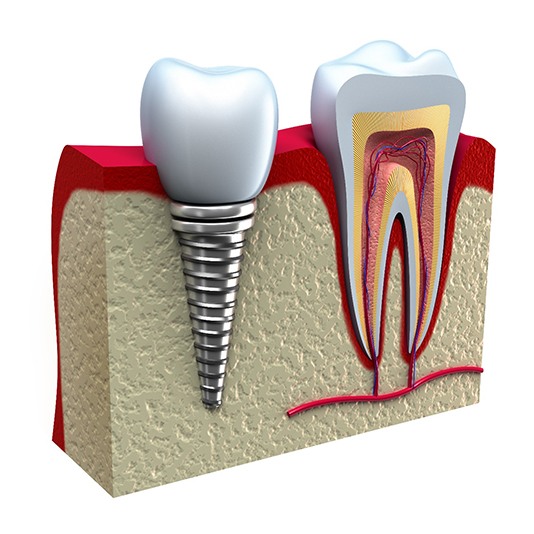 Dental implants are one of the most oft-discussed methods of replacing teeth, and if you've spent any time at all researching them, you've probably heard a lot about what they can do. In fact, you may even have gotten some conflicting information about them.
If you want to make sense of what you've heard, you may have questions about what dental implants are capable of. Here are answers to some of the most common ones that we get.
How Long Do Dental Implants Last?
Studies have shown that around 95% of dental implants are successful at 20 years, and a vast majority of them last for over 30. If you care for them well, dental implants may even last a lifetime!
How long you can keep your dental implants around depends on a few factors, primarily how well you keep up with your dental hygiene. Be sure to brush, floss, and use mouthwash every day, and see us twice a year for checkups.
Does Getting Dental Implants Hurt?
As with just about any dental procedure, your mouth will be numbed completely before beginning the surgery. As a result, the actual process of having the dental implants placed will be entirely painless. This is aided by the fact that the jawbone naturally doesn't have very many nerve endings.
After the treatment, the area around your dental implant is likely to be a little bit tender. Be sure to take any medication you were prescribed as directed, or take over-the-counter pain relievers according to the instructions on the bottle. Cold compresses can also be helpful in bringing down swelling.
Can I Get Dental Implants If I Smoke?
It is possible for smokers to get dental implants, but they have a considerably higher chance of implant failure than other patients. This is because smoking, vaping, and other methods of ingesting nicotine often cause dry mouth and damage gum tissue. This makes healing after surgery incredibly difficult.
For that reason, we strongly recommend quitting nicotine for at least two weeks before and ninety days after your surgery. This is the best way to make sure that you can heal effectively, and we'll be happy to help you if you've had trouble quitting in the past.
Will People Be Able to Tell That I Have Dental Implants?
In designing your dental implants, we will take detailed impressions of your tooth to make your restoration as realistic as possible. This restoration will be attached directly to the jaw, just like your regular teeth are.
For those reasons, dental implants are startlingly realistic, so much so that most people will not be able to tell that you have implants unless you tell them.