New Dental Patient Information – Slidell, LA
Taking the First Step Toward a Healthier Smile
Welcome to Camellia City Family Dentistry! We are currently accepting new dental patients, and we want you to feel right at home the moment you walk through our doors. We know visiting a new dentist's office can be a bit unnerving at first, but we want to ease your mind and help you to feel more comfortable before you arrive. Below is information you need to know that will make your initial visit more enjoyable and less stressful. If you have any questions, you are welcome to call our Slidell dental office to speak to a member of our team.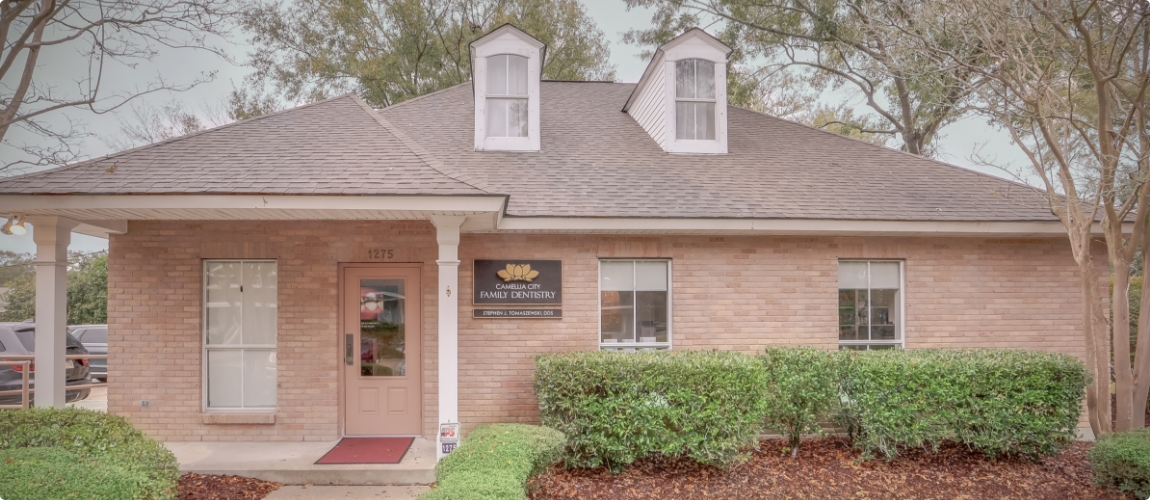 Your First Visit
You will be greeted by a friendly team member as soon as you arrive. After completing all necessary paperwork, you will receive a tour of our office as well as a welcome gift. Depending on whether your X-rays were previously forwarded to our office or not, we may need to take new diagnostic images for Dr. Steve to review. A thorough examination and cleaning will commence so that you leave looking and feeling better than before. If problem areas are found during your evaluation, we will go over your treatment options and set up an appointment at a later date to address the issue.
Patient Forms
It is essential that we receive completed patient forms upon your arrival, as this will help to streamline the process and keep you from waiting for an extended period in our lobby. If you have questions about the forms you are provided, please don't hesitate to call our office.
Dental Insurance
Camellia City Family Dentistry is a fee-for-service dentist's office that creates treatment plans based on the needs of the patient. Instead of allowing dental insurance plans to determine how we provide care, we take an individualized approach that allows us to spend more time with each patient while also using top-of-the-line labs and materials to produce the best possible results. We aim to keep our dental services affordable and will be happy to file insurance claims to help patients get the maximum reimbursement.
CareCredit Financing
If you need assistance paying for a dental service that is not covered by your dental insurance, or you are preparing to undergo multiple procedures in a single visit, you can avoid paying upfront by enrolling with CareCredit. This third-party financier allows you to break up your dental payments over several months, making it easier to manage your budget while pursuing a healthier smile. These low or no-interest payment plans, and no surprise fees, make it easier than ever to receive high-quality dentistry that you can afford.
Cherry Payment Plans
Cherry Payment Plan Cherry offers flexible payment plans that can range anywhere from 3-60 months. With fast approval up to amounts of $25,000, patients can look forward to a quick and easy application process following a soft credit check. You don't have to wait to get that treatment you've been needing—you can start today and know you'll be able to afford it with Cherry.

In-House Dental Plan
Uninsured individuals are welcome to apply for our in-house dental plan as a way to save on dental care. By paying a low annual fee, you can gain access to preventive dentistry services that are designed to catch problems early on. You'll also receive valuable discounts on other available dental services that we offer. Not only is this a great way to spend less on the care you receive, but you'll also avoid the red tape that often comes with private insurance.